Some links on this page may contain affiliate links which means that, if you choose to make a purchase using the link, Agricfy.com may earn a small commission at no extra cost to you. For more information, go to our Affiliate Disclosure Page!
Introduction
Crop plantation is one big opportunity that is wasting away for lack of knowledge, most times people only look into livestock farming and neglect crop farming. When I ask them the reason behind this, what I get as an answer is I don't know the right types of crops to cultivate especially when it is the rainy season where most farmers get into business.
Many people have empty land that is wasting away while they utilize that land doing some great and making good from it.
There is another set of people that have what they are doing already with the land they acquire by raising livestock, but yet they still have enough space to do more.
While some small-scale farmers are making money from crop plantations, others are not due to a lack of knowledge. The rainy season is here which is a period between April and October every year.
I've been asked several times which crop can I grow when the rainy season comes? I have answered this question offline, but I noticed that a lot of people still need this information to get started.
In this article, I will be taking you through the different types of crops you can raise during the rainy season.
Types Of Crops In Rainy season
1. Cassava
The first type of crop you can plant during the rainy season is cassava. Cassava is also known as Maniot esculenta is the third most consumed carbohydrate food after rice and maize (corn).
Cassava is a staple food in most developing countries Nigeria included and it has served as a lifesaver for billions of people. To farm cassava is not as difficult as other types of crops, all you need to do is plant the seed and water it from time to time.
There are different stages when it comes to planting cassava each of which comes with its colors as a symbol for easy recognition for a novice in the business.
The unprocessed root that will be planted is brownish, when it starts bringing out a leaf, it turns green which means it is growing well.
At the point the leaf starts turning yellow, then it means it is ripe for harvest.
If you are in Nigeria, cassava is mostly planted in the early start of April, although it can be extended through October. To be successful in planting cassava, it has to be done early in the morning and/or late in the afternoon.
This is usually done to prevent the sun from affecting the stem when planting. Harvesting is always after six months of planting.
Many things can be done with cassava after harvest. It can be processed as starch, the flowers can also be used as a source of income for anyone that doesn't want to process it.
Some of the common diseases that affect cassava are but are not limited to Antholysis, Bacteria Wilt, Bacterial stem rot, Brown leaf spot, Rust, Pythium root rot, and so.
2. Maize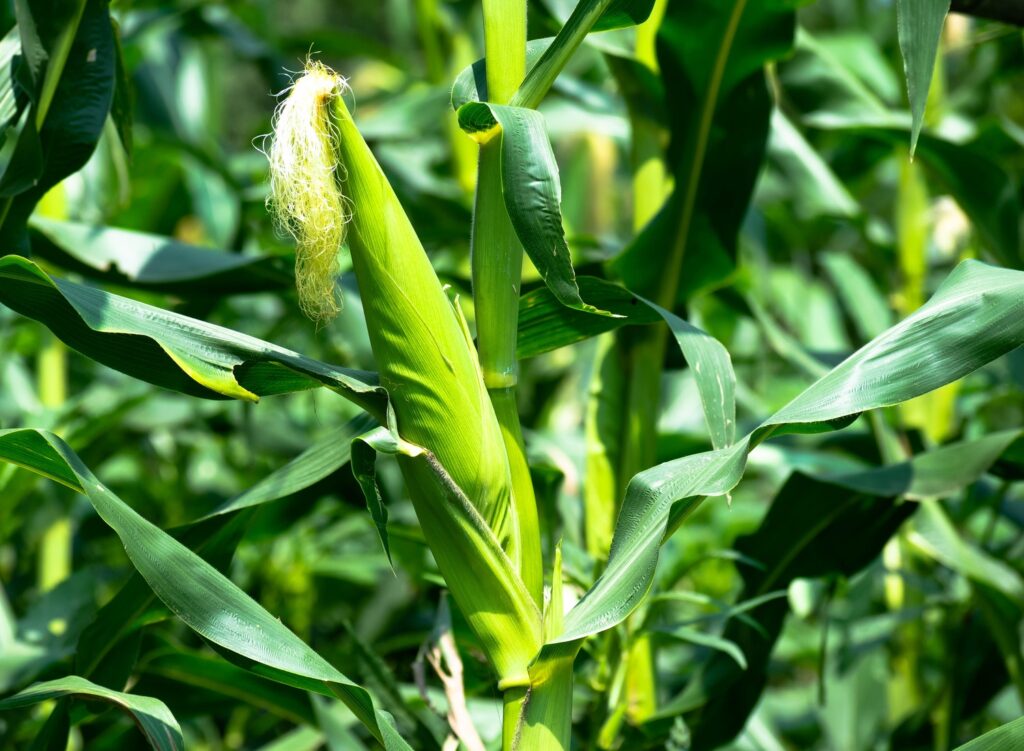 The next type of crop that can be planted during the rainy season is Maize. Maize is also known as corn is a staple food just like rice and cassava that has the potential of providing a variety of food to human and livestock animals after being processed.
Maize (Zea mays) is a domesticated crop that originated in America while an annual production of more than 1 billion tons as of 2013. Maize plants consist of male and female reproductive structures.
For anyone that wants to farm maize in Nigeria, early maize is planted in March/April (if you are in the South) and May/June (if you are in the North) while the late planting is done in July/August every year.
Unlike Cassava, within 3 to 4 months your maize is ready for harvest.
When it comes to the common diseases that affect maize, the bacteria diseases include bacterial stripe, Holcus spot, chocolate spot, Bacterial leaf spot, etc, while the fungal diseases might include Black kernel rot, Borde Blanco, Brown spot, charcoal rot, and so on.
If you want to know how to start a maize farm, I have an article that takes you through the process without stress.
3. Groundnut
Another rainy season crop you can plant is groundnut. It is one of the few crops that can be cultivated in a wide environment. In Nigeria, groundnut is in high demand all over the country because of its high nutrient and its good source of edible (cooking) oil extracted from the seed.
When choosing the location for cultivating groundnut, you must make sure the land is sandy or you choose loamy soil. For proper germination, the groundnut plant needs to be acidic and thrive better at a pH of 6 and 7.
Just like maize, the harvest period for groundnut is within 4 to 5 months from the planting date.  One good reason why you should plant groundnut if you ever think of going into crop plantation is it can be farmed twice in a farming season.
For effective cultivation, groundnut grows well in the Northern states of Nigeria, and the most common states that plant groundnut is Adamawa, Bauchi, Borno, Kano, Katsina, etc.
Some of the end products of groundnut are but are not limited to cooking oil, peanut butter, groundnut soup, boiled or roasted groundnut, and so on.
The most common diseases that affect groundnut are but are not limited to bacteria wilt, botrytis blight, collar rot, charcoal rot, etc.
4. Rice
One of the three staple crops is rice. Nigeria is one of the largest producers of rice in the world, 3rd largest producer in Africa after Madagascar and Egypt, and the number one in West Africa.
According to Wikipedia, rice is the third-highest agricultural commodity produced worldwide (741.6 million tons) after sugarcane (1.9 billion metric tons) and Maize (1 billion metric tons).
Rice is a monocot crop and is a seed from the grass species Oryza sativa. Before the advent of technology and for local farmers that have no access to an irrigation system, rice is cultivated by flooding the field before or after setting the seedlings. 
Rice is cultivated around April/May if you are in the North, and June/July if you are in the South and can be harvested from August depending on your location.
The most common diseases that affect rice are grain rot, foot rot, bacterial bright, black horse riding, brown spot, etc.
5. Yam
Next on the list of rainy season crops is yam. Yam is one of the most consumed food in West Africa with over 70% of the world's tuber production coming from this region.
Yam is usually planted between February and April while harvest starts from October to December (that is 180 – 270 days after cultivation).
Every year, it has become a ritual in some regions of Nigeria to celebrate the arrival of the new yam.
Of the time of putting this article together, a tuber of yam goes as high as # 3,500 ($7.5) in Nigeria which makes it difficult for an individual to purchase in the open market.
One of the most widely spread diseases that affect yam is anthracnose which is associated with storage. Other diseases and pests that affect yam are yam mosaic, Dry rot, mealybugs, and so on.
6. Millet
The last type of crop that can be planted during the rainy season is millet. Millet farming is being traced to Asia and Africa as the largest producing continents.
Millet is a semi-tropical crop that needs a high temperature (20◦c and 30◦c) and a wet condition of about 40 – 60 cm for optimal growth. It is a highly variable small seed grass cultivated as a cereal crop for livestock and human consumption.
As of 2016, the world's production of millet was around 28 million tonnes. One of the most common millets grown around the world is the pearl millet. Other types of millet are Golden millet, Proso millet, Finger millet, etc.
If you are based in Nigeria for example, millet is cultivated majorly in the North because of the weather condition. Millet is cultivated in June and harvest happens in September and October.
The most common diseases that affect millets are but are not limited to Egrot, Rust, Pearl millet, Smut, etc.
Conclusion
Beyond the six crops mentioned above, other crops can be planted during the rainy season.
There are many reasons why your crops might not grow well, but with the right guidance, you can successfully grow good crops and make good money from them.
If you have spare space on your farm, you can give it a shot and not just go into livestock farming alone. There are opportunities in agriculture and you should not be left out.
Cheers to your success.