Some links on this page may contain affiliate links which means that, if you choose to make a purchase using the link, Agricfy.com may earn a small commission at no extra cost to you. For more information, go to our Affiliate Disclosure Page!
Introduction
Some people want to start a business in the agricultural sector but don't have much money with them to carry out their dream.
I've been asked many times by clients and even those that I mentor about businesses they can start with little cash. When I ask what their budget is, they say below $1,300 (that is approximately 500,000 naira).
Since this question keeps coming up, I decide to put together a list of agricultural businesses that anyone can start with $ 1,300 or less in this economy,
Disclaimer: Depending on when you're reading this article and the state of the economy at the time, the amount mentioned might not be enough to start and fund these businesses.
There are many articles online that talk about how to start an agribusiness with no money and most of them are not always 100% correct because as things go up, you will need some money to put some things together.
Like the saying "If you don't have money, you will have time and if you don't have time, you must have money. If you don't have both money and time, then you should not be existing."
The above statement is not the purpose of this article but to show people interested in investing in the agricultural sector what businesses they can start with the amount they have with them.
Some of the businesses mentioned in this article will not require any structure at all, while some will require you to put up some structure to get started.
Businesses You Can Start With N 500,000 ($ 1,300) or Less
Processing And Packaging
First, on the list of businesses you can start with $ 1,300 or less is Processing and Packaging.
Processing and packaging are businesses that people have not started paying enough attention to. There are a lot of known people that are making money from this type of business without a sweat.
Although for you to make the best out of this business, you need to do some research work, so that you know who needs your product and which particular agricultural product they want.
If you want to tow this line of business, you don't even need to have a farm, all you need is to have sure plugs that will supply you with the type of agricultural product that people are demanding.
You can even export these products overseas and make cool cash.
For example, I'm into catfish farming and I have people who order smoked fish from me and I send it abroad to them. They will receive it and some of them will resell the fish to stores over there.
Everyone makes money without disturbing each other.
Why do you say I will need up to $ 1,300 to start this? Many people want to be in control of their things, so what I will advise is to buy your own Klin (smoking machine), buy whatever you want to process, do so, package it, and sell.
You can process livestock like fish, chicken, snails, goats, and so on. The list is endless.
For better branding, you need to design a nice sticker in order for you to stand out and make people resonate with your product whenever they see them.
Logistics Business
The next business you can start with $ 1,300 or less is the logistics business.
I have mentioned it over and over again, people are sleeping on some value chain in the agricultural sector. Not everyone should own a farm, you can look inward at what is lacking in the business in general and leverage that to start your own business.
The logistics business is one business that is giving people concern. People are finding it difficult to get their agric products out to customers especially fresh produce that's because logistic companies are not willing to pick up and deliver fresh agric products.
I have a personal experience to share. When we started our meat-sharing business, we reached out to a lot of logistics companies saying we want them to pick up our fresh meat and help deliver it to customers, the response "WE DON'T DO FRESH PRODUCE, WE CAN'T LET YOUR MEAT SPOIL BUSINESS FOR US". We were heartbroken of cause but we had to do personal delivery to people in order not to lose customers.
Imagine there are logistics companies specifically for agricultural produce (fresh products), it will remove a lot of barriers to this business.
Will you make money from this business? Absolutely yes, because there are no such people doing that. So, if you have some money to spare, then invest in owning a specialized agriculture logistics company.
Pig Farming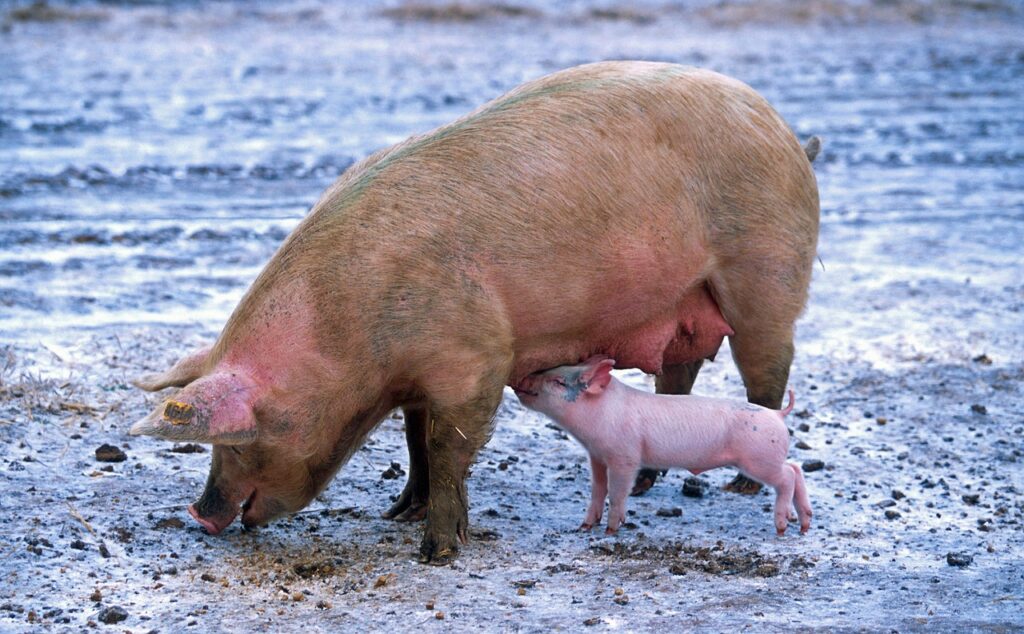 Next, on the list of businesses you can start with $ 1,300 or less is pig farming. This business requires a lot of money to start if you're a beginner, but there are ways to start a pig farm without spending much money.
Now, the thing is that everyone wants to own a business and be called CEO without being ready to face the possible challenges that come with it. But you can start small and upgrade as time goes on.
How do you start a pig farm with N 500,000 or $ 1,300? If you're in Nigeria and wish to start a pig farm, you don't need to buy land if you don't have the money to do so. Rent a space that you can use to start small, hire someone that will look after them, buy 3 pigs (1 male and 2 female), feed them till the female pigs take in (get pregnant), and start producing piglets for, BOOM, that's all.
It's just a matter of time, you will make back your money and just keep expanding till you're able to buy your own space.
Cow Business
This cow business is one that most people think it's not possible unless you have millions in your bank account or you're in a political position for you to do so.
NO, even if don't have much and you don't have your own space, you can still start a cow business.
If you're a Nigerian, staying in Nigeria, or grew up in Nigeria before moving abroad, you would have one day seen the Fulani's ranching with cows on the street, uh uh, those cows do not belong to them.
The cows belong to individuals in society that just wants to tie down some money and doesn't want to have so much involvement in the business.
Although this business is also risky if you find a good person to look after your cow/sheep, and they do not fall sick, by the time you're about to sell them, you will make cool cash without stress.
Poultry Farming
Next, on the list of businesses you can start is poultry farming. Poultry farming is wide and there are different areas you can put your money on if you're looking at starting a poultry business.
I have different articles that can help you in starting a poultry farm anywhere you are in the world. You can go read these articles and get started with one.
With $ 1,300 you will start something in this space that will earn good cash with little stress.
Meat Sharing Business
Another business you can start with $ 1,300 (N 500,000) or less is a meat-sharing business.
Just like the logistics business, the meat-sharing business is something that people are not really at for now. To start a meat-sharing business is simple, even if you don't have the complete money to buy the said meat.
The list of livestock you can start with ranges from cow, ram, and even goat meat.
How do you go about this business? Get people around you interested in buying a share from you either by paying upfront or maybe after you deliver their portion to them.
If you're in Nigeria, with N 250,000 ($ 598) you can buy a decent cow in an abattoir, get butchers to piece the cow, set an amount to each portion, let people order their desired amount and that's it, you make your money.
One of the secrets to making your money from this meat-sharing business is never to sell on credit to customers.
Catfish Farming Business
Another business you can start with a token of at least $ 1,300 or less is a catfish business.
If you've gone through the articles on the website, you would have seen articles I have written on catfish farming.
Ranging from how to start a fish farm to different ways to make money from the fish business, the list is endless.
As an expert in this business, I can categorically say if a minimum of $ 1,300 you can start a fish farm depending on the aspect of fish farming you desire to go into.
The value chain of fish farming is huge and you don't need to raise catfish from fingerlings/juvenile to table size. You can explore other options in this business and don't follow the crowd that just wants to do the same thing.
Egg Distribution Business
Last but not least, the business you can start with $ 1,300 (N 500,000) or less is the egg distribution business.
I bet some people do not know you can start an egg business without owning a farm. Yes, it's possible and people are doing it and making money from the business.
The strategy for owning and succeeding in this business is to get a space at an open place, get a farm that will supply the egg and that's it.
To succeed in this business, you will need to do some research and I mean good research without holding back. You have to go around farms to strike a deal with the farm owners so they can be supplying you with eggs when it's time to start.
I tell clients not to go to just one farm and rely on whatever they say, they might mess you up, have a deal with at least 2 to 3 farms so you can have peace of mind when it comes to egg supply.
You do the finding right before you rent a space so you don't waste money if you don't find a reliable farm that will supply you with eggs.
The following are the steps to starting an egg distribution business are:
i. Find a farm
ii. Rent a space (in a place that is open and not too competitive)
iii. Buy the equipment needed (crates)
iv. Get a vehicle
v. Get a staff
vi. Start the business
The process mentioned looks simple but yet complicated that it could take weeks, and even months to put everything together.
You can read more about starting an egg distribution business HERE
Conclusion
There are different businesses you can start with $ 1,300 (N 500,000) which goes beyond the list mentioned above.
But with what I have mentioned and explained above, you can make money comfortably if you follow orders.
I have tons of articles on how to start and succeed in at least 3 of the businesses mentioned in this article which you can go through, take action, and make money from whatever business you decide to start.