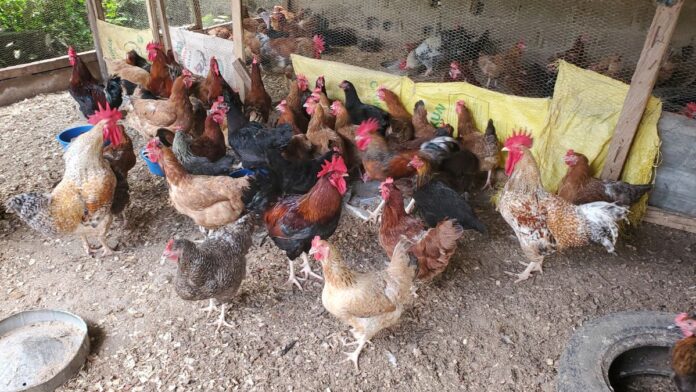 Some links on this page may contain affiliate links which means that, if you choose to make a purchase using the link, Agricfy.com may earn a small commission at no extra cost to you. For more information, go to our Affiliate Disclosure Page!
How many types of poultry birds do you know aside from Chicken, Turkey, and Duck?
Let me know in the comment section.
Many times, when people talk about going into poultry farming, what is on their mind is investing in chicken farming and sometimes turkey farming.
There are different types of poultry birds you can raise aside from chickens which is the most common poultry bird that people invest in.
In this article, I will be talking about 7 different types of poultry you can start as a farmer.
Types of Poultry Birds
1. Turkey
The first type of poultry bird you can go into is the turkey. Turkeys are bigger and larger than any type of poultry bird you can think of.
Turkeys are first raised in Mexico after World War II and are commonly raised in Canada, North America, and the United State Of America.  
The modern turkeys raised are descendants of the wild turkey called Meleagris gallopavo. Turkeys are raised mainly for commercial purposes (meat production). They also lay eggs for consumption but this is not common. 
The amazing thing about turkeys is the fact that in some parts of Africa, they are being raised as a pet at home and also as a form of security.
The male turkey is always bigger than the female one and they usually weigh between 5 and 11 kg while the female turkeys weigh between 2.5 kg and 6 kg. It takes an average of 19 weeks or approximately 5 months to attain slaughter size.
The average lifespan of a domestic turkey is 10 years.
Turkeys can be raised in an open space or build a coop to raise them.  
The classes of turkeys are:
Roasters – They are younger turkeys under 16 weeks or 4 months
Hens – They are female turkeys and always around 21 weeks or 5 months
Tom – These are turkeys that are 52 weeks or 12 months old.
Mature – They are turkeys that are over 65 weeks or 15 months old.
The most common breeds of turkey are Beltsville Small White, Black Turkey, Blue State, Bourbon Reds, and so on.
Turkey hens produce 45 poults every year and it takes 28 days for turkey eggs to hatch.
They are mostly killed for consumption during Thanksgiving and Christmas.
2. Ducks
The second type of poultry bird you can raise is Duck.
Ducks are water birds usually smaller than geese and swans. Ducks are not commonly raised unlike turkey, chicken, etc.
They are commonly raised in England, the Netherlands, and the United State of America.
Ducks are commonly raised for egg production and meat consumption. Their feathers are good sources of money. An average duck weighs around 0.72 kg and 1.6 kg
The male duck is called Drake while the female duck is called a duck. The average lifespan of Mallard is 5 years.
There are 12 types of ducks which are:
Dabbling ducks
Diving duck
Eider
Goldeneye
Merganser
Perching Duck
Scoter
Sea Duck
Stifftail
Teal
Whistling Duck and
Domestic Duck
There are over 40 breeds of duck but the most common ones you can raise domestically are Cayuga, Call, Campbell, Pekin, Indian Runner, and Muscovy.
Ducks lay an average of 300 eggs every year.
3. Geese
The third type of poultry you can raise is Geese.
Just like ducks, geese are aquatic animals, and the most common type of geese that are raised as poultry is the grey goose.
Geese are grouped into two main categories which are the genera Anser and Branta.
They are the first set of poultry birds to be domesticated. The greylag goose was first raised in Europe, Western, and Northern Africa. The swan goose was first raised in Eastern Asia and is commonly called the Chinese goose.
They are raised similarly to ducks for egg production and meat production. Their feathers also have some value. Geese were domestically raised in Egypt over 3,000 years ago.
The average weight of male geese is 5.2kg while that of the female is 4.8 kg.
Goose has an average lifespan of 31 years.
The most common breeds of geese are Embden, Czechoslovakian White, Huoyan goose, Kuban, lands, and Toulouse.
The male geese line produces an average of 55 to 65 eggs while the female line produces an average of 60 to 70 eggs a year.
4. Guinea Fowl
The next type of poultry bird you can raise is Guinea Fowl. Domesticated guinea fowls are called Pintados. They are of the Numididae family (Galliformes)
Guinea fowl originate from Africa and are mostly raised for meat consumption.
The amazing thing about raising guinea fowl is that they can be used to control ticks on the farm. They are known for their vocal feature and they are used as security for other birds on the farm.
Guinea fowl usually weigh about 1 to 1.5kg at 12 weeks when they are ready to be sold and slaughtered.
The average lifespan of Guinea is between 10 and 15 years.
There are 3 varieties of guinea fowl which are pearl, lavender, and white. You can also cross guinea fowl with chickens.
The most common breeds of guinea fowl are:
White-breasted guineafowl
Black guineafowl
Helmeted guineafowl
Plumed guineafowl
Crested guineafowl
Vulturine guineafowl
Numida meleagris.
They lay around 30 eggs in a deep nest. Ducks hide the nests they build before laying eggs and also share them with other hens. Their eggs are smaller, they are darker and whitish in color.
Guinea fowl meat is drier than chicken and turkey meat and the eggs are smaller and darker compared to chicken eggs. They have an incubation period of 28 days and when the eggs are hatched, they are called Keets.
5. Quail
Fifth on the list of the types of poultry birds you can raise on the farm is Quail.
They are mid-sized birds classified among the game birds in the families of Phasianidae and Odontophoridae. Quail has roughly 130 species.
Quails are raised for meat consumption and egg production. The egg is used as medicine for most types of diseases. China is the world's largest producer of quail meat with 160,000,000kg per year.
The average life span of quail is within 3 to 5 years and weighs around 0.096kg.
Their main food is insects although they eat seeds, leaves, and berries.
The most common species of quail are:
Japanese quail (Coturnix)
Italian Quail
English White quail
British Range quail
Ornamental quail
Gambel's quail
They lay an average of 200 eggs in a year and it takes around 23 days to hatch their eggs.
6. Chicken
This next type of poultry bird is the most commonly raised all over the world. Chickens are multi-purpose birds (egg production and meat consumption). As of 2018, there are 30 billion chickens in the world. Chickens are also raised as pets.
In the United States, Canada, and Australia, male chickens over one year are called Rooster.
Chickens can weigh from 3.4 kg to 3.9 kg and have a life span of 5 to 10 years.
The common breeds of chicken classified into 3 (Americal, Mediterranean, and English) are:
Rhode Island (Red and White)
New Hampshire
Leghorn
Sussex
Orpington
Sussex
Chickens start laying from 16 weeks depending on the type and breed you are raising. A chicken lays eggs every 24 – 26 hours and can produce up to 240 eggs in a year.
If you are thinking of starting a chicken farm and don't know where to begin, read this article on how to start a chicken farm.
7. Pigeon
The last type of poultry that you can raise is Pigeon. Pigeons are part of the Columbidae family alongside Doves. Young domestic pigeons are called squab and are derived from Rock doves (also known as Rock pigeons).
They are raised for sports and as a messenger and mainly for meat consumption. Pigeons are more hobby birds than commercial-purpose birds.
Pigeons weigh around 2.1 kg and have a life span of 6 years.
The most common types of pigeons are:
Fliers
Fancy breed
Utility breed
Pigeons nest when they are around 25 to 30 days. They lay around 24 eggs in a year.
Conclusion
There are some other types of poultry birds you can go into. They are but are not limited to Emu, Ostrich, pheasant, and so on.
Depending on your location, some of the birds might not be easy to raise but I can guarantee you that at least 4 on the list are what you can start immediately and make money from them.
To recap, below are the 7 different types of poultry birds:
i. Turkey
ii. Duck
iii. Geese
iv. Guinea Fowl
v. Quail
vi. Chicken
vii. Pigeon
I will like to know the types of poultry birds mentioned in the article, which will you raise on your farm?
If you find this piece useful, do well to share it.
You can as well check the article where I compared two of the most lucrative agriculture business, poultry, and catfish farming.