Introduction
Tell me a fish farmer that has left Nigeria for another country to hatch catfish, I will wait.
Well, the kind of feeling I had when I was asked by one of my subscribers to come to his home country to help with hatching catfish. I did that and it was all good hatching in another country for the first time.
Have you ever dreamt of being in a good place and when it is eventually happening, it was as if it never happened? Well, that was how I feel when I bought my first international ticket to fly out of Nigeria for fish farming back in October.
Flashback
Around April 2021, a subscriber reached out to me that he wants to start a fish farm in his home country and he would love me to be there to make things happen.
The Nigerian in me thought for some minutes that it might have been a joke or something because of ME?
We kept on speaking on phone from April telling me about his plans, the facilities he had, his projections, and so on. After speaking for a long (roughly 3 months) with no action, I lost hope believing it was a SCAM.
Well, to my greatest surprise, JULY 2021, he called my mobile as usual and after speaking for some minutes, he asked me to send my account details so he could forward me my flight fee and other things we needed to buy from Nigeria that might be difficult to get in his country.
I sent him my details and after 1 hour, he sent me a receipt of payment, I WAS SHOCKED because IT WAS JUST A DREAM.
I was supposed to travel in August but because of the weather condition (which is rainy at that point), it would be meaningless to travel to a new location at that period to hatch fish. We had to wait for when the rain is going.
Fast Forward To The Present
On Tuesday, October 12, 2021, I bought my ticket to travel to Sierra Leone and it was as if I hit a jackpot (maybe I did).
All preparation went well and on Wednesday, October 27, 2021, I TOOK MY FIRST INTERNATIONAL FLIGHT. YIPEEEEEEEEE.
Not to talk of what happened at the airport (my village people want to se yeye mi) but we were allowed to board.
We took off from Muritala Muhammed International Airport, Lagos at around 3 PM Nigeria time and we landed at Freetown International Airport, Lungi by 5 PM Sierra Leonean time. 
After all, was said and done passing through the immigration office, we went for our covid test (paid $80 for this).
We did the ROT and the PCR test and we were told that the PCR test will be ready after 72 hours. Because I wasn't vaccinated yet (COVID-19 spoilt traveling in all ways), we were being taken to an isolation center (a guest house of such) until the test result is out.
We paid Le 200,000 ($20) for a night and on Thursday, October 28, 2021 (barely 24 hours later) the result was out and our passport was given to us.
It is Time To Travel To Bo
This journey has been an experiment full of excitement and fear for me. Excitement because it was my first time outside the country by air and I will be staying longer than a week (I was in Lomé, Togo in September) and a bit of fear because I wasn't sure it was going to come through as we are not sure of the fish we will be using to hatch.
All my worries are just out of curiosity and fear of failure.
We left the guest house in Lungi at around past 6 PM to be able to meet the last ferry to Freetown for the day that leaves by 7:30 PM.
We were just in time because by the time we got to the point it was just about 10 mins from leaving (the ferry was to leave earlier than usual).
I got on the ferry for the very first time in my life and we rode for 30 – 40 minutes (can't say precisely).
We got to Freetown some minutes past 7 PM and lodged in a hotel to spend the night before leaving for Bo (where the main event is to be happening).
On Friday, October 29, 2021, we work up around 5 AM to get to the park early so we could meet the first Government bus going to Bo (it was said that the government bus was safer but slower than the commercial vehicles).
We bought our ticket which cost around Le 9,000 per seat and the bus moved at 7:10 AM.
Not to bore you with everything that happened on the way (we had two stops where people drop to buy food and also "wet" – visit the toilet), we spent approximately 5 hours on the road before alighting at NEW LONDON PARK, BO.
Hatching Catfish fries in Bo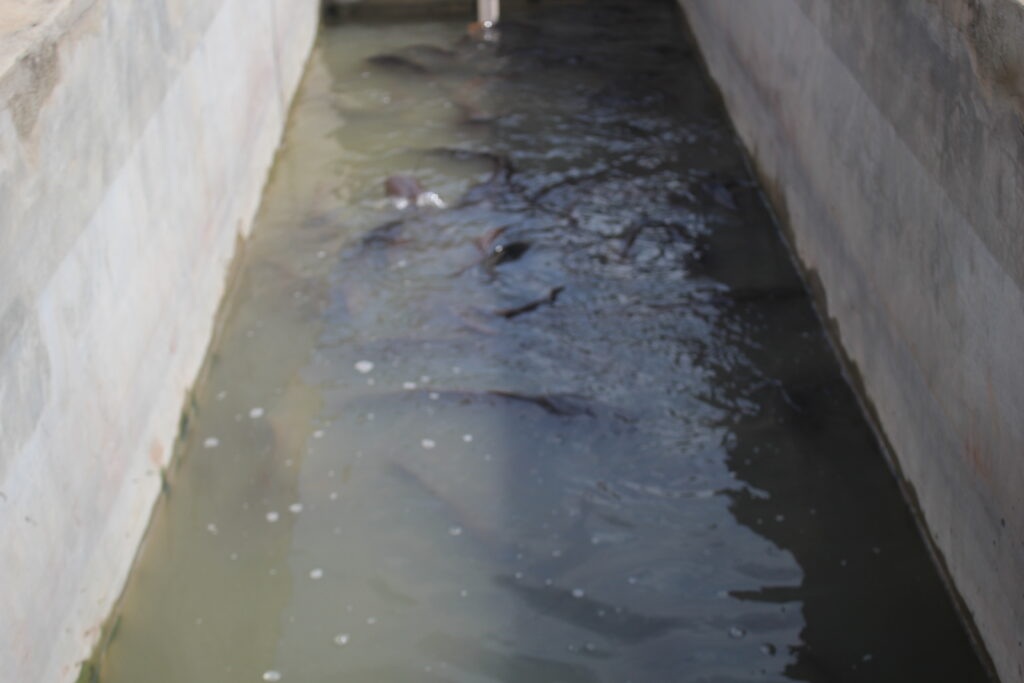 Got to Bo by 2 PM, relaxed a bit, and immediately got to work. I inspected all the facilities that were available and the following was on the ground.
4 Smaller concrete ponds (1 of the pond has the broodstocks that will be used)
1 Semi large pond (that has tilapia fish in there)
3 larger concrete ponds
Solar powered oxygen
All the ponds were built with zero knowledge about fish farming. After doing all that, I brought out all the equipment I bought from Nigeria that will be used and started putting everything in place.
I know you are asking me, WHAT DID YOU BUY FROM NIGERIA? I bought the following instruments:
3 tarpaulin ponds (Size 6 x 8 x 2.5 ft – for hatching)
Water pH and temperature meter
Synthetic Hormone
Spawning Net
Hose
Oh, I forgot to buy one of the most important things – feed for the fries when they eventually hatch.
We started work by testing the water pH and we noticed that it was poor (I will get into that later in the article), started making the frame for the tarpaulin pond with a stick-on that said Friday that I got to Bo.
On Saturday, October 30, 2021, we completed making the tarpaulin pond the local way and dived into selecting the fish we are going to be using for the hatchery.
We selected 8 female broodstocks and 5 female broodstocks to use for the hatchery.
On Sunday, October 31, 2021, we treated the new ponds with water and salt to remove chemicals from the ponds.
Hatching Catfish Fries in Bo
Everything is ready and it's time to hatch the fish but WE HAD A PROBLEM – THE WATER pH.
After preparing our pond where we will be hatching (I mean washing, treating, and putting water in the pond). We injected the fish with the synthetic hormone that I brought from Nigeria.
After injecting the broodstocks (8 in number), we tested the water again just to be sure everything was ok and it gave us the needed number of water pH for the good hatchery.
The next morning when we were supposed to strip the female fish and do the necessary things, we tested the water pH again and discovered that it has dropped to 3.4 which is very poor, and with this, we can't go on with our hatching.
Where do we start from? The eggs are getting ready to be stripped but we can't strip the eggs because the water pH is poor. We tried all available water around to see if we could get an alternative to what we have but all to no avail.
After over an hour of no positive alternative from the water sources around, we deployed another means which is using a local method of regulating the water pH (we used charcoal).
We washed the charcoal and dropped it in the ponds for like over 30 minutes before testing the water again to see if there will be some changes.
It did work and we were able to strip the fishes and do the insemination process.
The whole process took about 1 hour 30 minutes and covered the ponds (not completely because of the sun in Bo).
24 hours later, my mind was up (I wasn't sure we will have a good result because of the challenges that we faced) but the fries came out well and in large quantity and everyone was happy including the client.
The fish was so much we had to transfer some of them to an empty concrete pond so that the ponds won't be crowded much and don't lose them all.
We did lose some of the fries which is very normal (and particularly because of the water issue) but there were still a good number of them left.
After some days, the first set of fish are already eating and visible to anyone that doesn't know anything about catfish, we had the guys do their own hatching with little supervision from me and the person I went with.
They trying to hatch catfish themselves is so see and ensure that they have learned something and can be able to carry out this act when we are gone.
We prepared a tarpaulin pond for them to do this because of the quantity of the broodstock that will be used for hatching.
We prepared a total of 4 female broodstock for injection and stripping into the pond. Remember I mentioned that the average weight of these broodstocks is 0.25kg which means they are not big at all but they are ready for use.
They did the normal process of hatching (injecting, stripping, mixing, and spreading the eggs) as we have earlier showed them in the first hatchery we did.
After 24 hours, as usual, the result shocked everyone cos I can categorically say we had over 90% success rate in the hatchery.
We can literally count the number of white eggs that were in the pond. The one we did this was more than the first set that we did.
In order to avoid overstocking and pollution by the new fries, we applied the solar-powered aerator and at the same time prepared a large concrete pond so we can transfer the fish there.
You can buy this solar-powered aerator by clicking the link below:
We managed the fries with the water pH well till after 2 weeks when we left Sierra Leone to a new location for another project.
Major Challenges Faced Hatching In Another Country
In the process of hatching catfish in Bo, Sierra Leone, we faced some challenges which almost ruined our mission of traveling. Few of the challenges faced are but are not limited to:
Broodstock: Majority of the female broodstock that we met there were small and at the same time don't have enough eggs. Because this is my first time that I will be using a catfish gotten from the river, I was a bit skeptical about the result we might likely get from this catfish hatching.
There was no way I was going to transport broodstock from Nigeria to Sierra Leone so we had to make do with what we had.
Water: This is the biggest challenge we faced while trying to hatch catfish fries in Bo.
The water we used in hatching is rainwater that has been fetched into the pond and sometimes government water that runs once in a while.
When trying to check the water pH of the farm, we noticed that it was below the required pH (which is between 6.5 – 7.5). We had ways to control it by using oyster shells but that wasn't enough because it failed us when it was time to hatch.
We went for an alternative method of balancing the water pH which is applying charcoal to the water in the ponds. That was what saved the day.
Equipment: Another challenge we faced in Bo while hatching catfish fries is the inability to get fishing equipment.
Because the most common type of fish raised in Sierra Leone is Tilapia and it's mostly in the river, there are no stores that sell fish farming equipment. The majority of the equipment that we used was locally made (DIY, providing alternatives, aside from the ones that we brought from Nigeria), including the feed we gave the fries when it was time for them to start eating.
How We Tackled The Challenges Faced In Bo
No matter how difficult a situation is, there will always be a way out of it. Yes, we faced challenges that make it seem as if our stay will be a miserable one but yet we were able to come out strong and with a positive result.
On the issue of water pH, one of the very few ways to control any water issue you might have on the farm when it comes to fish hatchery is using the local method.
There are different ways to control your water pH especially for hatching catfish fries which I have done a video about.
You can watch it HERE
One thing that is not commonly used is charcoal. Many people don't even know the usefulness of this amazing piece that comes from wood but it is very efficient in controlling water.
That is why when people tell me they want to learn about catfish hatchery and I tell them the amount and they complain, I just shake my head and smile.
WHY? Hatching catfish is beyond the 24 hours insemination period. The main business in catfish hatchery starts after 72 hours when they need care and everything.
So, if you are serious about making fish hatchery a business, you should be ready to learn and spend some money as well.
For more information on training, send an email to daniel@agricfy.com
Way Forward And Conclusion
Advice To Anyone Who Wants to Start a Fish Farm in Any Country
No matter where you are in the world, starting a fish farm is possible and making money from it is also possible all you need to have is willingness and patience.
Yes, it was my first time out of Nigeria to do hatchery but it is a great start and a sign that Africa is blessed and we can do big things to make the continent great again. Whether you are in West Africa, East Africa, North Africa, South Africa, or Central Africa, you can start a fish farm, all you need is just the belief and putting the necessary things in place.