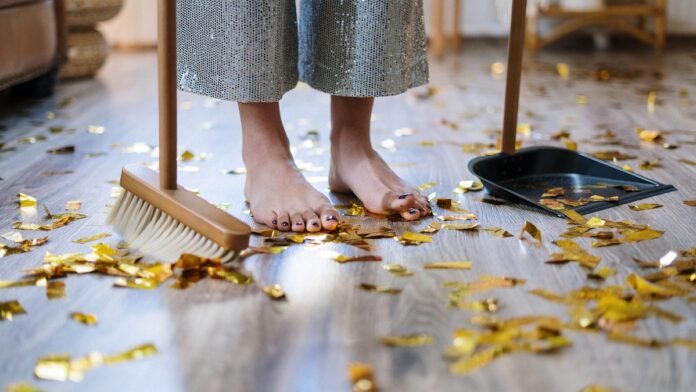 Some links on this page may contain affiliate links which means that, if you choose to make a purchase using the link, Agricfy.com may earn a small commission at no extra cost to you. For more information, go to our Affiliate Disclosure Page!
Introduction
Everybody is aware of the critical nature of a proper cleaning and disinfection program on a farm. Poultry facilities and structures must meet the criteria for environmental isolation and careful adherence to cleanliness and disease prevention principles. A poultry facility must be meticulously prepared for the arrival of each fresh batch.
After depopulation, special attention should be made to the terminal cleaning of dwellings and equipment. After an illness outbreak, more caution should be used while performing sanitary measures. Prompt disposal of dead and sick birds is a critical and effective method of avoiding disease spread.
Periodic visual examination, in conjunction with frequent microbiological tracking, is a very efficient means of determining the efficiency of cleaning and disinfection. So, what are the necessary cleaning equipment for poultry farms?
Cleaning Method
In this type of cleaning, you would have to remove dust, and other dirt from the ceilings, lights, walls, cages, fans, air inlets, and other surfaces. You take out all of the feed from the feeders. Scrape dung off perches and roosts from the floor, as well as any collected dust and filth. Get rid of all the trash on the floor.
Sweep the floor to get rid of any remaining dried materials. A wet-dry shop vacuum works well for eliminating this debris in a small coop. However, be sure to clean the filter often since fine dust from the coop may easily block it, making the vacuum work harder or causing the motor to burn out.
Before cleaning with water, turn off the electricity to the building. Soaking, washing, and rinsing are the three processes of wet cleaning. Warm or hot water will penetrate biological materials more effectively than cold water. Use a low-cost neutral detergent, such as dish soap.
Cleaning Equipment For Poultry Farms
You must think about your chicken's health and comfort if you are growing poultry. In doing this you will need the right equipment for good work output.
Are you seeking the finest cleaning equipment for your poultry farm? If that's the case, you've come to the right place. The following are some of the essential cleaning and sanitation items that should be included on any chicken farm:
1. High-Pressure Cleaners
These days, pressure washers are increasingly popular because they are incredibly successful at cleaning stubborn stains and filth from almost any surface. Several sorts of pressure washers may be used to clean your chicken farm's floor and other surfaces. Depending on your capability, you may rent or purchase pressure washers.
2. Scrubbers
These devices clean chicken barns by scraping away dirt and stains on the floors and walls. However, before deciding on a scrubber, consider issues such as the kind of surface to be cleaned, the amount of space available, and so on.
3. Picker
Picking up chicken droppings is one of the dirtiest and most time-consuming duties on a poultry farm, according to any poultry farmer. This is why this machine is invented to assist you to clean up the droppings fast, and simple, and saving time and energy is a good idea. Any reliable equipment provider that specializes in poultry farming equipment may provide you with a poultry picker.
4. Broom
This sort of cleaning equipment is ideal for sweeping tiny particles of the chicken coop floor, such as dust and grime. It has long bristles that make it simple to use and efficiently clean.
A plastic broom is a great tool for clearing debris out of your coop or cages. It stops bacteria from growing in your coop's cracks and corners. These brooms are very simple to clean after use, which aids in the prevention of bacteria growth. Plastic brooms are also lighter than wooden brooms, making them easier to sweep even when there are a lot of droppings on the floor
5. Muck Fork
This fork is longer and has a broader head than a standard manure fork. It includes wooden handles that make it easy to grip while in use. The muck fork is ideal for taking huge volumes of animal dung from the field and distributing it.
6. Coop Scoop
The broad head of the coop scoop makes it ideal for gathering big quantities of garbage and depositing them all at once in your waste receptacle. It features two handles on each side, making it convenient to use with both hands or just one while you're on the farm doing anything else.
7. Manure Scraper Systems
Manure scraper systems are machines that gather and move chickens' waste from floors to a slurry tank outside the poultry house through conveyor belts or chains. Both broiler and layer hens may benefit from manure scraper systems.
8. Vacuum Cleaners For Wet Floors
These are good for removing extra water from wet floors after they've been washed and sanitized. This machine is excellent at keeping the floor clean after it has been washed since it eliminates both dust and moisture.
Cleaning and Disinfecting Chicken Coops
The most difficult aspect of bio-security is housing cleansing, which is separated into two categories.
1. Complete or Terminal Home Cleaning
This is done after the flock has been removed, and the following considerations should be taken into account. Remove any remaining feathers, droppings, trash, and other debris once the flock has been removed. Following that, the shed should be thoroughly disinfected.
The home should first be fumigated, after which it should be disinfected thoroughly. Before bringing in a new flock, leave the shed vacant for at least 10 days. Before introducing a new flock, make sure there is no excess moisture in the litter since this increases the likelihood of fungal development.
2. Partial/Concurrent Home Cleaning
This sort of cleaning is done while the birds are still inside. Cleaning the fans, lighting, and other equipment thoroughly should be done regularly. Sweeping the home, removing caked litter, and providing clean litter are all things that should be done.
Using iodophors and 5% sodium hypochlorite to disinfect brooder guards, feeders, jugs, and drinking water containers regularly; additional effective chemicals like sodium dodecyl sulfate, formalin, and iodine compounds may also be employed.
Commonly Used Disinfectant
Disinfectants are commercially available chemical compounds with unique qualities for specialized uses. The following are the numerous disinfectants:
1. Cresols
Cresols are a kind of disinfectant that is made from petroleum distillation. When sprayed on soil or structures, they are inexpensive and efficient biocides. They can't be used near live chickens, processed meat, or eggs since the chemical's odor will contaminate them. Organic phenols that are known for disinfection of hatchery equipment.
2. QAT
"QAT" stands for quaternary ammonium compounds. On the proviso that an anionic detergent is used before applying QAT, they are ideal for decontaminating equipment, housing, and hatcheries.
3. Chlorine Compounds
These are mostly utilized in food processing industries and on animal ranches to clean water. Only when the pH of the water is between 6.5 and 7.5 and it is exposed to dormant bacteria for 10-20 minutes will hypochlorite be effective.
4. Formalin
Formalin is a caustic and toxic substance that is used to fumigate eggs in special cabinets. However, to prevent being exposed and damaged, the applicator must take extra care.
Steps in Cleaning
Step 1: Make a plan
Any excellent chicken house cleaning and disinfection program should begin with a plan that includes dates and times, as well as the manpower and equipment required, and that should be developed before the farm is depleted.
Step 2: Remove chickens, equipment, and feeds
Remove all of the house's equipment as well as the feeds and drinks.
Step 3: Get rid of the dust and rubbish and dispose of them
Dust and cobwebs should be removed from all interior surfaces and equipment. Litter must be cleared for at least 3.2 kilometers (2 miles) around the chicken's house.
Step 4: Apply a pre-spray
Spray the detergent solution around the broiler house interior, using suitable safety equipment, to dampen any residual dust. If you have an open-sided poultry house, close the curtains.
Step 5: Water purification and feeding systems
The water system should be drained, cleaned, and disinfected. To eradicate any biofilm that has built up in the water pipes, they should be cleaned at least once every flock. If manual cleaning isn't an option, apply high doses of chlorine (140 ppm).
Before flocking, flush the water lines with clean, fresh water. All feeding equipment should be emptied, washed, and disinfected.
Step 6: Decontaminate
Use a disinfectant that is authorized for use against certain germs and viruses found in poultry. Always follow the manufacturer's directions. Most disinfectants are ineffective against sporulated coccidial oocytes, hence only skilled personnel should employ selective coccidial treatments.
It's important to note that disinfectants are useless in the presence of filth and organic debris and that they shouldn't be used on moist surfaces since dilution will occur.
Step 7: Fumigate
Spray the inside of the chicken house with a regionally prescribed pesticide as soon as you are done cleaning while wearing suitable safety clothing. If possible, formalin fumigation should be performed by trained specialists who follow all safety guidelines and instructions.
Conclusion
Disinfection and sanitation are critical components of any hygiene plan. A well-managed chicken house cleaning and disinfection program with the right equipment will assist in mitigating disease impacts, optimizing bird productivity and wellbeing, and ensuring food safety.