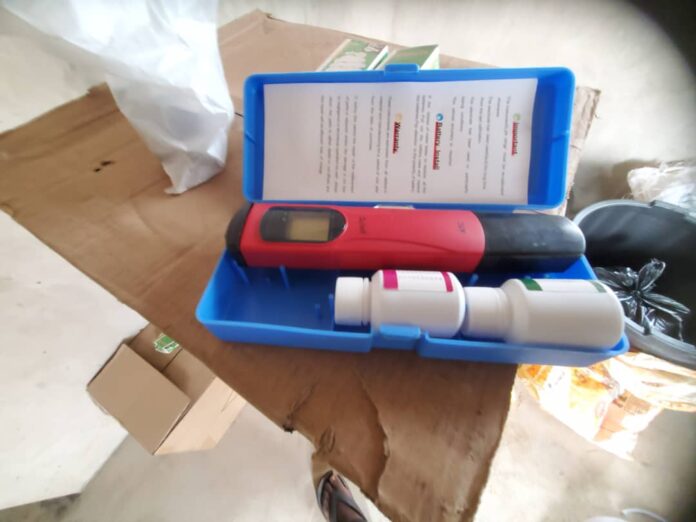 Some links on this page may contain affiliate links which means that, if you choose to make a purchase using the link, Agricfy.com may earn a small commission at no extra cost to you. For more information, go to our Affiliate Disclosure Page!
Introduction
Are you in search of the best types of water Test kits? Look no further, as this article will highlight the best for you plus give you vital details that you need to know about the best water test kit.
Water is important to life. It's often described as life itself.
As a result, everyone desires to consume good water.
Industries where water is a constituent of their products use clean water and not contaminated water.
However, clean and good water can't be determined by visual examination alone. 
The micro-organism that makes water unclean are not visible to the ordinary eye.
Also, there are chemical contaminants that make your water unclean without changing the color of your water.
Hence, to accurately identify – to some good degree – a good water from a bad one, you'll need a kit designed for that purpose.
This is where water test kits come into play. 
In addition to that, these devices are user-friendly and easy to operate.
In this article, we'll take a look at the best water test kits available on AliExpress, and Amazon, ensuring you get the best for your budget.
At a Glance: Best Types Of Water Test Kits
Water Testing Kits: Overview and Benefits
Water testing tools are designed to check the quality of your water supply by indicating the presence or absence of certain contaminants.
Most water testing kits are boxed with components like Reagents, test strips, and color charts.
Each of these components functions according to design. 
The reagent reveals the presence of contaminants by producing a color change.
The test trips which are customarily blended with the reagent indicate the presence or absence of contaminants when dipped in water.
The color chat as the name implies indicates color changes in a chart-like manner. 
Specifically, it shows the result of tested water according to color – the number of contaminants and their level of contamination.
Meanwhile, all the mentioned components have a part to play in water purification. 
All together as a kit have found their relevance in the following aspects:
Ensuring Safety
Water test kits have been a safety tool used in homes and industries.
Due to its ability to detect contaminants, pathogens, and harmful metals (e.g. lead), safety is ensured when the kit reveals contaminants in water.
When it is used effectively, it can also detect impurities in water that get contaminated over time. 
As a result,  timely and necessary measures can be taken to eradicate any lingering contaminants.
Expense Reduction
Some health challenges come from contaminated water. 
A lot of people end up spending money treating this issue when it should have been avoided.
Hence, regular water testing can be handy in reducing the cost of treatment of diseases caused by contaminated water.
Quality Enhancement
Most purification machines used in industries wear out with usage.
Also, other purification facilities don't eradicate pathogens as intended.
Therefore, reasonable data can be extracted from test exercises that will help industries in their decision-making process.
The decision can be an upgrade or a complete replacement – in the case of wear out – which in turn increases water quality.
Promote Public Trust
Consumers of water always yearn for clean and treated water.
They will have confidence in consuming water when there is a track record of consistency in its quality of production.
Having a sense of trust about the quality of water they get provides peace of mind.
Correspondingly, this promotes public trust.
Best Water Test Kits
Ranked as the overall best water analysis test kit by Good Housekeeping Institute, Safe Home has found its way into the water test kit market as the most reliable water analysis test kit.
Having been tested at EPA EPA-certified laboratory, Safe Home is confirmed to test accurately for 200 parameters.
In other words, the Safe Home Ultimate water test kit can check for about 200 contaminants.
Notably, it can test for contaminants such as metals, Nitrites, physical properties, inorganic compounds, organic compounds, TTHM packages, bacteria, and more.
For proper usage of the Safe Home test kit, all the usage instructions are written in English and easy to follow.
On unboxing the package, you'll find some test vessels.
These vessels are used to hold water samples for test operations.
However, the package comes with one bonus testing option and a free shipping test option.
You can decide to follow the do-it-yourself test option to test for bacteria in water.
The bacteria test result is quick and reliable.
Alternatively, you can ship your water samples to the company and receive your test results within 7 – 10 business days of when your water sample is received.
The shipping option is preferable due to the test result's precision and accuracy.
You also get a bonus treatment option recommendations for further actions.
Upsides
i. Simple to use
ii. Test for 200 contaminants
iii. DIY bacteria test
iv. Online test options
v. PDF Comprehensive report of test results
vi. Free sample shipping
Downsides
i. Costly
ii. Website not user-friendly
Regardless of its limitations, the Safe Home Ultimate Drinking Water Test Kit is a go-for choice when a water test kit is in demand.
This powerful tool is a must-have for every home and industry, ensuring the assurance of water quality.
The Watersafe test kit is a highly rated-water analysis kit. This is due to its ability to test for a high range of contaminants.
Specifically, with the Watersafe test kit, you can test for the presence of nitrites, bacteria, lead, chlorine, pesticides, etc.
The tool also allows testing for pH and water hardness.
The bacterial contamination testing kit works with a lot of precision. This is why the package contains several components for test accuracy.
For the sake of safety operation and use, the Watersafe WS425B drinking water analysis kit is designed to be user-friendly. 
Detailed instructions are displayed on each component for easy use.
However, one of the downsides of this tool is its 48-hour bacteria check result.
This has reduced its speed and delivery efficiency, especially in a situation where immediate action is needed.
Nonetheless, it has a high testing range that covers a broad testing sample.
Thus, making it handy in a situation where more than one contaminant needs to be tested for.
Furthermore, the Watersafe WS425B drinking water test kit is lightweight.
Its leather jacket contains a slim strip that is simple and easy to handle.
Interestingly, the strip result is readable and clear.
The results are displayed in English which makes it easier to use.
Finally, this tool costs a few bucks which is considerably fair looking at the efficiency level it offers.
Upsides
i. Detects all the most common and dangerous contaminants
ii. Detects EPA level
iii. Most sensitive water quality test kits 
iv. User-friendly
Downsides
i. Detects harmless contaminants
ii. Contains multiple tests that you don't need
iii. 48 hours bacteria test
This device has been rated for its ability to detect dangerous contaminants accurately.
Its downsides are endurable because of the precision of its results.
When you bring this device into your home, you're guaranteed to unlock exceptional value.
As the name implies, the 17-in-1 drinking water contaminant test tool tests for 17 parameters plus 2 bacteria (E. coli) tests.
The product contains a testing vial, 2 bacteria test containers, and 100 test strips.
This tool can test for lead, copper, iron, fluoride, pH, hardness, Bacteria, and more.
With the numerous test strips available, tests can be repeated to ensure accuracy.
The test strip works like a litmus paper which makes it easy to read and use.
Additionally, with these test strips, you can save the cost of having to test several parameters separately in a lab.
Test results appear for about 1 minute which is enough time to record the result before it disappears.
Varify water test kit is considered to be lightweight.
The total package weighs about 6.74 ounces and measures 2.5 x 4 x 6 inches.
Upsides
i. Detects contaminants in 1 minute
ii. Test for E.coli and coliform bacteria
iii. Simple testing procedure
iv. EPA certified
v. Includes two bonus bacteria test
Downsides
i. 48 hours bacteria test
ii. Contains multiple tests that you don't need
The incredible merits this product offers make it a great choice for a DIY water testing kit.
Its special bonus of two bacteria tests gave this device an additional advantage over others.
The COM-600 7 IN 1 water test tool is a multifunctional water analysis tester that has plenty of functions for its users to explore.
When you explore this device, you'll get to use it to test for multiple functions which include TDS and Salinity, pH, ORP, Conductivity, Temperature (both in degrees Centigrade and degrees Fahrenheit), and more.
COM-600 7 IN 1 water quality tester's wider measurement range can be applied in different water environments.
Specifically, the COM-600 7 IN 1 PH water quality tester can be used for testing drinking water, swimming pool water, aquariums, and mountain springs.
Its test result accuracy is plus/minus 2 percent.
COM-600 7 IN 1 water quality tester is lightweight and slim.
On unboxing this device, you'll notice a 105g, 183 mm long plastic cased tester with a 36 mm battery cap at the top and a manual that helps you to operate the device with ease.
The device features an LCD indicator that displays all the information concerning your water condition including the device battery status.
Several functions on the device can be accessible using the three vertically aligned buttons below the LCD indicator.
In addition to its features, this device is IP67.
That is, the device can be completely immersed in water for about 30 minutes or more without getting damaged.
Also, it means that this device is dustproof and can operate in a moist environment.
However, you don't need to completely immerse the device in water before it can work.
only the probe (protective cap level) is required to be in the water to achieve any test result.
Upsides
i. Multiple usage
ii. Powered by a battery 
iii. Features a digital display
iv. Easy to use
Downsides
i. Batteries are not rechargeable
ii. Low-light Backlight
iii. Not a smart device
Accurate and reliable, the 4-in-1 PH TDS meter is mostly used for testing drinking water, swimming pools, aquaculture, and scientific research units. 
It features many functions similar to the COM-600 7 IN 1 PH water quality monitor.
This product contains a long-slim plastic-cased device, test powder, test pen, box button battery, and user instructions for ease of usage.
The 4-in-1 PH TDS water test device is sectioned into 4 main parts.
The upper part is the battery cover followed by the display and button section which is the longest section.
The remaining two parts are the electrode fixing ring and the probe.
The probe is the sensitive section that is immersed in water to test for contaminants and other parameters.
Due to the quality of the probe, and the ATC (Automatic Temperature Compensation), the 4 IN 1 PH TDS water quality tester ensures a high accuracy of results.
Apart from accuracy, this device is known to give results with speed.
All results are displayed in the LCD indicator part.
Upsides
i. Fast and Accurate
ii. Multiple usage
iii. Powered by a battery 
iv. Features a digital display
Downsides
i. Batteries are not rechargeable
ii. Not a smart device
Conclusion
Water test kits have been very handy in identifying good water from bad one.
These devices have helped in providing drinkable, and usable water for homes and organizations. 
However, not all these devices measure plenty of parameters with accuracy and precision.
In this article, I have highlighted the best Water testing kits beginning from 1 to 5.
I believe with the information in this article, you'll be able to make your choice according to your needs.
FAQs
Can I perform a test independently from home?
It depends. Some water test kits allow you to carry out water quality tests on your own while others will require the service of an expert for accurate results.
How will I know if a water quality test tool gives accurate results?
Every water test kit is built to be precise and accurate in results with bearable errors. 
However, you may need to repeat some tests over and over again to make sure the variables are close in values.
Also, some water quality test tools are accurately calibrated by the company. 
In case you're not sure if yours is calibrated, you may need to do the calibration by following the user manual.
Alternatively, you can get an expert to do it for you.
Where can I buy the best water types of water test kits?
You can purchase the best types of water test kits from Amazon or place orders on Aliexpress.